Name des Modpacks: Staged Learning
Link zum Modpack: https://www.curseforge.com/minecraft/modpacks/staged-learning
Game Version: 1.12.2
3,321 Downloads
Last Updated: 2 days ago
Kurzbeschreibung: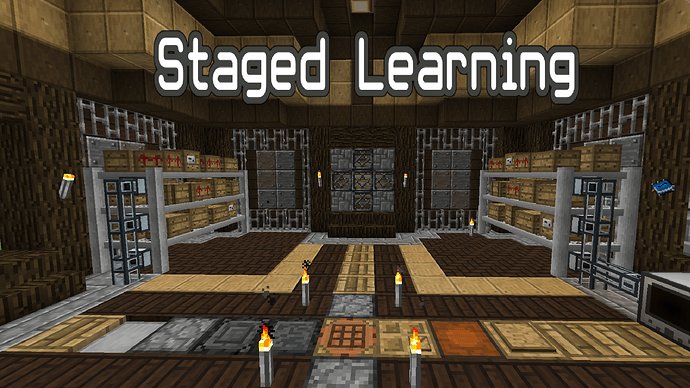 Staged Learning is a staged progression questing pack with changed recipes and a few custom multiblocks. You start out with only a few mods. In order to unlock more, you need to perform research. Research can be done by turning in certain fluids or items into the questing book, upon completion of said research you will obtain a discovery that will unlock the next mod or set of mods.
Special thanks to my Alpha testers: Bigair14, Gamingwithayden, Biopticrizzl, Uglyduck2k4,
ZeroObjectHD for providing some item and block textures,
and without the help of these guys the pack wouldn't have even been possible, big thanks to Davqvist and Traverse Joe.
Know Issues: For some reason, the first world you create in a single-player usually crashes. I am currently trying to find a fix for this.
If you have any questions feel free to ask them in the discord: https://discord.gg/dSwT8Ne
ModList:

/dank/null

Actually Additions

Actually Baubles

Advanced Generators

Ae2 Stuff

Ae2 Wireless Terminal Library

Akashic Tome

AppleSkin

Applied Energistics 2

Athenaeum

AttributeFix

AutoRegLib

Avaritia 1.1x

B.A.S.E

Bad Wither No Cookie - Reloaded

Baubles

Baubley Heart Canisters

BdLib

BedPatch

Better Builder's Wands

BetterFps

Blockcraftery

Bookshelf

Brandon's Core

Building Gadgets

Ceramics

Chameleon

Chest Transporter

Chisel

Chisel & Bits

Clumps

CodeChicken Lib 1.8+

CoFH Core

CoFH World

Colossal Chests

Common Capabilities

ConnectedTexturesMod

Construct's Armory

ContentTweaker

Controlling

Corail Tombstone

Cosmetic Armor Reworked

Crafting Tweaks

CraftTweaker

Cucumber Library

Custom Backgrounds

Custom Main Menu

Cyclops Core

Dark Utilities

Deep Mob Learning

Default Options

Diet Hoppers

DiscordSuite

Draconic Evolution

Dropt

Enchantment Descriptions

EnerIO

Ender IO Endergy

Ender Storage 1.8+

EnderCore

EnderTanks

Environmental Tech

Extra Utilities

ExtraCells2

Extreme Reactors

FastFurnace

FastWorkbench

Fence Overhaul

FoamFix

Forge MultiPart CBE

FTB Backups

FTB Library

FTB Quests

FTB Utilities

Fullscreen Windowed (Borderless) for Minecraft

Game Stages

Guide-API

Immersive Engineering

Industrial Foregoing

Initial Inventory

Integration Foregoing

Inventory Tweaks

InWorldCrafting

Item Filters

Item Stages

JEI Integration

JEI Villagers

JourneyMap

Just Enough Energistics (JEE)

Just Enough Items (JEI)

Just Enough Resources (JER)

KleeSlabs

LagGoggles

Loot Capacitor Tooltips

LootTableTweaker

Magneticraft

Mantle

McJtyLib

Mekanism

Mekanism Generators

Metal Chests

ModelLoader

ModTweaker

Modular Machinery

More Overlays

Morpheus

Mouse Tweaks

MPUtils

MPUtils Basic Tools

MrTJPCore

MTLib

MultiStorage

MysticalLib

Nature's Compass

NetherPortalFix

No Night Vision Flashing

No Recipe Book

NuclearCraft

OpenBlocks

OpenModsLib

Ore Excavation

Overloaded Armor Bar

p455w0d's Library

Patchouli

Phosphor

Placebo

PlusTiC

Project EX Project Intelligence

Project Red - Base

Project Red - Compat

Project Red - Fabrication

Project Red - Integration

Project Red - Lighting

Project Red - Mechanical

Project Red - World

ProjectE

ProjectE Integration

Quark

Quick Leaf Decay

ReAuth

Reborn Core

Recipe Stages

Redstone Arsenal

Redstone Flux

Redstone Repository Revolved

Reliquary v1.3

Resource Reloader

Resource Loader

RFTools

RFTools Control

RFTools Dimensions

RFTools Power

Scanable

Shadowfacts' Forgelin

ShetPhianCore

SimpleHavest

Storage Drawers

Super Sound Muffler

SwingThroughGrass

TBone

Tech ReBorn

Tesla Core Lib

The One Probe

TheDragonLib

Thermal Cultivation

Thermal Dynamics

Thermal Expansion

Thermal Foundation

Thermal Innovation

ThermalLogistics

Tinkers Construct

Tinkers' Tool Leveling

Too Many Efficiency Losses

Top Addons Torchmaster

UniDict

ValkyrieLib

WanionLib

Wireless Crafting Terminal

Worley's Caves

Xnet

Xtones

YABBA

YNot

ZeroCore